← Back to portfolio
Armin van Buuren @ Privilege Ibiza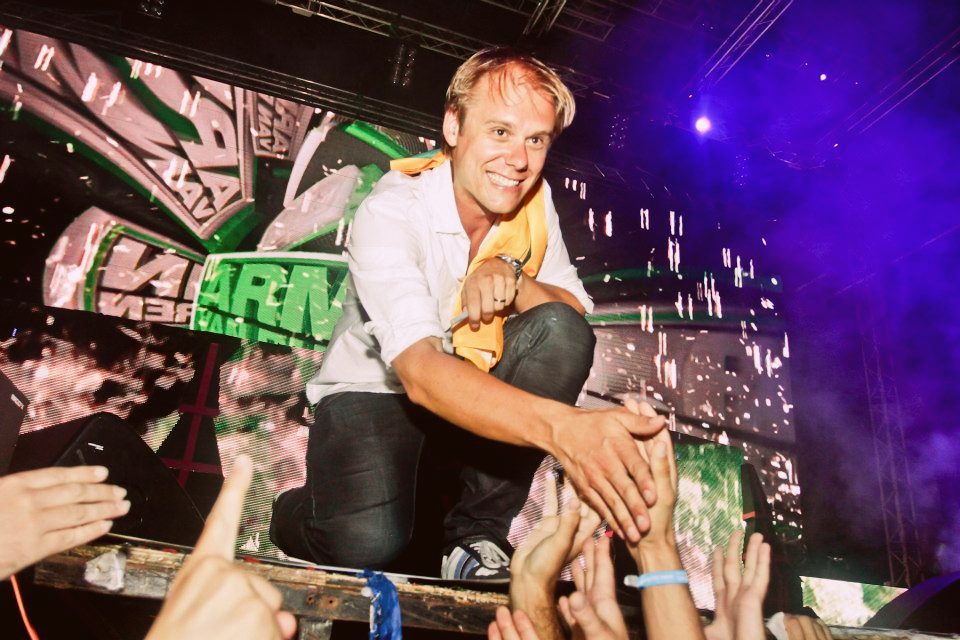 Originally published on Ibiza Spotlight.
I'm no David Attenborough, but I'm pretty certain this was about as close to Armin's natural habitat as you can get: the biggest club in the world, rammed with people, soaked in lasers and an immense sound system at his disposal for an entire night. This was A State Of Trance as it should be done.
As seems to be the growing tradition for contemporary trance DJs, Armin started off in that shady crossover territory where trance and big room house intertwine to make loud and abrasive EDM. Although dabbling in this style at the start of his sets, Armin has fortunately stayed true to his trance roots throughout his illustrious career, unlike some people I won't mention, starting with 't' and ending in 'esto.' Once we had the commercial references out of the way (like Axwell and Dirty South remix of Temper Trap's Sweet Disposition) we were led into the depths of trance territory by some deep and moody instrumental tracks and left to fend for ourselves amidst the lasers.
Presently, vocalist Ana Criado emerged on stage for the first of several pitch-perfect live performances throughout the night, the most moving of which being Winter Stayed, a Triple A creation (Alex M.O.R.P.H., Armin and Ana). This haunting number was a great example of the beautiful vocal melodies I use successfully as ammunition in winning over all but the most hardened of trance-sceptics. Privilege, meanwhile, was whipping out all the party tricks to accompany Armin's set. LED Robot Spinning McBicycle Man (if that even is your real name) was in fine form above our heads, as was a semi-nude acrobat in a floating cube, lycra-clad dancers with lightsabers, psychedelic (though potentially nauseating) on-screen visuals and the anonymous pyromaniac in the lighting booth who kept blasting dragon-like bursts of fire into the already tropical air. 
The most – er - committed entertainment gimmick of the night undoubtedly goes to Armin's brother Eller Van Buuren, who casually delivered an electric guitar solo whilst dangling from a wire high above our mildly perplexed heads. Sure, it might have been a little cringe when the brothers theatrically pointed at each other from their respective positions, but I can't say it wasn't memorable (plus Eller is an absolute babe, ladies).
Never dwelling on one musical mood for long Armin's set undulated between heavy and euphoric, and had us switching from unbridled-euphoria-face to bad-smell-bass-face like madmen. His mixes were beyond seamless, as usual, transitions between unlikely pairings of tracks sounded incredibly natural, if you noticed them at all. Armin's incessant jesus-christ-superstar posing and crowd cajoling drove me absolutely crazy, and yet he still managed to remain undeniably charismatic. No matter how far one recedes into the chin-strokers corner, Armin will eventually manage to get you emotionally involved – and that's a real talent.
The night reached a crescendo around the 5:30 mark, as Armin threw a whole host of classics at us in a short space of time, including Above and Beyond's A Thing Called Love, Gareth Emery's Concrete Angel, the Invalyd and Stoneface and Terminal remix of Beat by Beat and the behemoth of an Armin original, Communication pt3. A favourite moment of mine came shortly after this when, in a wave of nostalgia, Armin dropped Resurrection (PPK). Much like when Eller was having his Hendrix moment 20 feet up, I just couldn't wipe the smile off my face.
So I raised my arms, I stomped my feet, I stood staring at lasers like a zombie and I sang about weather, love and angels. It was a large-scale trance session with the largest in the business - a man more than capable of holding his audience for an entire night and then some. A pleasure as always, Armin.