← Back to portfolio
Dark Mofo Festival disturbs the comfortable and comforts the disturbed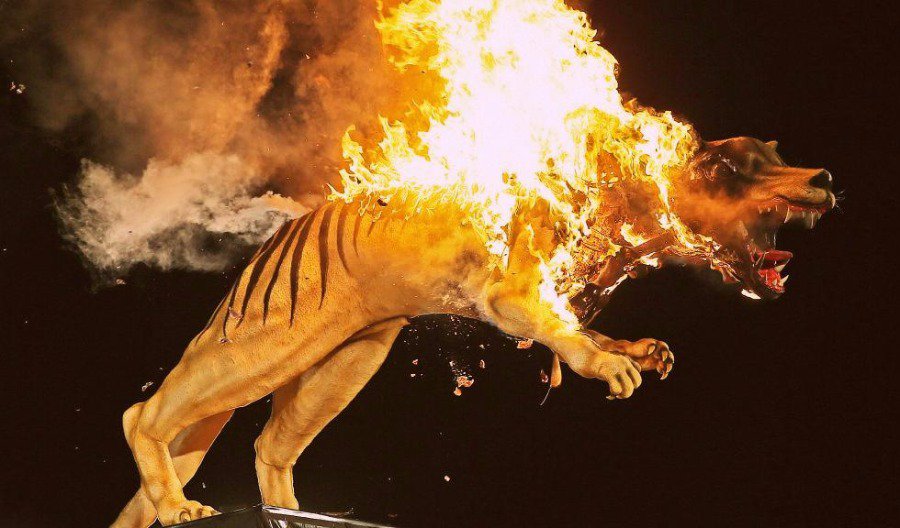 Originally published on Pulse
Betty Grumble, the eco-sexual clown, had just ripped the gaffa tape off her nipples with much aplomb and was now bending forward to wedge a lit sparkler betwixt her cheeks. The sparkler found its purchase and Grumble turned her firey rear to the audience with a wiggle and throaty giggle, her sultry voice echoing off the glowing red rafters high above our heads. We were in a church, of course.
I was balls deep in Dark Mofo and open to any freakiness that might come my way—which it did that weekend, and often.
It's hard to know where to begin when describing the experience of the pagan inspired cultural festival which descends on Hobart, Tasmania every winter, because the Dark Mofo journey is not a linear one. Emanating from the festive halls of the Winter Feast (where locally sourced culinary delights, bloated stomachs and good humour abound, and fire pits bloom like roses amongst beef brisket), Dark Mofo bleeds outward to occupy all of harbour-side Hobart, encouraging attendees to wander down as many explorative tangents as they may.
Across two incredible weeks there is a performance in every hall, art around every corner, soundscapes stopping traffic (more on that piece of genius later) and once night falls, a bloody red glow seeping into every nook and cranny as restaurants, bars, hotels and Dark Mofo activations turn on the red light in participation.
Entrance to and inside Winter Feast, by Pat Stevenson
Ms Grumble of the aforementioned butt-sparkle was one of 30 performances waiting to be discovered on the nocturnal urban amble that is Welcome Stranger, accessed via a dark alley by giving a password (mine was Potent Drug). Though a victim of its own success, with occasionally heavy queues breaking the flow and sense of spontaneity, Welcome Stranger also unearthed sensory gems like the Bass Bath—which is exactly what it sounds like; the polyrhythmic festivities of The Senegambian Jazz Band; participation in a scoreless and generally futile game of indoor tennis with flat balls, slightly bent rackets and hearty heckling from the sidelines; and a meditative soundscape from Laraaji, who looped the sounds of his mbira, of dripping water, and his own honeyed voice chanting "I walked in the peace garden / there was light everywhere" into a sound healing which soon had most of its listeners lying on their backs in a dream-like state.
A weekend highlight was an emotional hour spent captivated by Norwegian princes of darkness Ulver with the Tasmanian Symphony Orchestra, which combined twisted electronica and a chunky string section to create a dark and moving composition featuring majestically bowed double bass growling down to unimaginable depths, creating a sound that skipped the ears and cut right through to the heart.
Loved up scenes and private passwords of Welcome Stranger, by Pat Stevenson
For those of the dancing persuasion, Red Bull's Transliminal parties transformed the Hobart City Hall into a great disco cavern, with a net of red lasers cross-hatched above a dance floor in the throws of the chunky, dark disco spun by Maurice Fulton. Though the curation of these parties was spot on—other nights featuring Legowelt and the peerless DJ Harvey—the grand scale of the space and slightly incongruous crowd make-up made this, whilst good fun, one of the less engrossing events of the weekend.
Not so for the Twin Peaks session performed by Californian experimentalists Xiu Xiu in the intimate Odean Theatre, where the trio delivered a wonderfully unique take on the classic soundtrack with appropriately Lynchian eccentricity and artfulness, playing their instruments with mind, body and soulful shoulder shrug.
As last light on the last day of Dark Mofo faded into a brilliant sunset I stood motionless, like almost everyone else around me on the street. Projected from hundreds of speaker rigs positioned throughout the city the air was ringing with Siren Song, a haunting soundscape of howling wind, ominous string scraping and an operatic wail which literally stopped people in their tracks. Transfixed to the sound, which throughout the festival had heralded the arrival of dawn and sunset, I watched Winter Feast fireballs shoot into the air around me then disappear, leaving gaseous smudges to waft into the air like apparitions. Above our heads, a helicopter was lurching and spinning through a terrifying pattern of stunts like a great, drunken dragonfly, occasionally dipping low enough for an echoey refrain of "Ride Of The Valkyries" to leak down to those captivated on the ground. There was a faint smell of cinnamon and smoke.
Ulver and Xiu Xiu performances, by Dark Mofo/Lusy Productions
Following Siren Song and sunset came the parade, where giant beasts were carried amidst beating drums and general caterwauling towards the industrial Dark Park so that the most striking of all, a ferocious pouncing thylacine (the extinct Tasmanian Tiger) filled with the fears put to paper of Dark Mofo's many attendees, was symbolically set alight in the Indonesian Ogoh Ogoh tradition.
Hundreds watched in silence as flames licked the bared teeth of the thylacine into a demonic snarl before its head combusted, sending a flurry of fears sparking and swirling up into the night. I watched the animal burn until nothing was left. The ritualistic element was deeply satisfying and, like everything at Dark Mofo, best when given your undivided and extended attention.
Later I would find myself wandering the black industrial wasteland of Dark Park, with tiny islands of red light or fire leading the way to the next warehouse containing anything from laser crosses, starry archways, confronting and tragic life stories told through text, or the bloody and pungent remains of Hermann Nitsch's controversial sacrificial ritual, 150.Action. One of my final memories of the festival was standing on a dark plane, neck craned, hypnotised by the graceful dance of blue laser beams above my head whilst rich and melodic ambient techno filled my ears and a hot toddy filled my belly.
Like Sydney VIVID's weird cousin that some family members don't like to talk about, Dark Mofo celebrates the unusual and alternative, offering thought provoking and challenging art, whilst remaining determinedly festive. Never more than spitting distance from a mulled drink, slow cooked animal and friendly conversation, a pretentious art indulgence this is not.
They say good art should disturb the comfortable and comfort the disturbed. I'd say Dark Mofo is bloody good art.