Hi My Name Is Jordan And I Am A Lost Paradise Festival Convert
Originally published on Pulse.
I'm covered in a feral paste of dirt, sweat and glitter, scaling up the shoulders of a sturdy friend, eager to obey Flight Facilities' call from stage for a double-decker crowd. Reaching my lofty perch I see thousands of bodies before me and behind me doing the same, silhouetted by the sparkling lights of the Lost Paradise Arcadia stage and accompanied by a deafening roar. Midnight has just rolled past and, surrounded by tall gums and sweeping darkness, a little valley near Gosford, Australia is reaching the climax of its festival…
Rewind four days and I'm fresh as a wet wipe, rolling into Glenworth Valley on the 28th of December to enjoy the extra day option before the madness begins. The day-before-the-day is a cruisy one for punters, as a few thousand early arrivals start to form the campsite community which will be their home for the next four days. The Inner West Disco Reggae Machine AKA Sydney's bespoke wooden sound system and the legends that built it are pumping out the dub all day to an appreciative but largely subdued crowd sheltering from the heat in the trees of the Paradise Club hill.
The stage itself is looking lovely, a rustic wooden shack with stained glass window framing, flanked by trees. As the sun dips behind the hills the vibe really starts to pick up and the dance floor swells. I find myself sitting pretty with can in hand, legs bent deep in a dub stomp, staring beyond the stage at an increasingly vivid pink sunset seeping through the gums. Festival: on. Unfortunately the magic is short lived though, as at 8pm the music is cut, leaving the growing crowd a little disappointed but doing wonders for the pizza van trade down the hill, which now becomes the loudest source of tunes in Glenworth Valley. Treat em mean keep em keen - we go to bed with the anticipation of kids at Christmas.
Day One official - in roll the masses and out roll the tarps. Though I can't complain of anything personally, reports come in that the wait is pretty grim. Having earned itself an instantly and intensely loyal group of past attendees, Lost Paradise has almost doubled in size since the previous year, which does bring some organisational teething problems when it comes to things like entry, food queues, ice queues (ice is soon to become as valuable as diamonds - and price hiked accordingly) and regular emptying of bins. Only in its third year, Lost already has its atmosphere and offerings nailed - I'm certain these logistics will be running smooth as a baby's bum next time around.
Festivities kick off with the aboriginal opening ceremony performed by the area's traditional land owners, the Darkinyung tribe. Though we've a very long way to go, aboriginal culture is increasingly carving a permanent presence in mainstream youth music events and it's a top way to mark the celebration's commencement.
No use pretending the heat isn't fucking diabolical for the next three days; the sun glares down with the ferocity of a tantrumming toddler and dares me to respond in kind. This means days are slow to kick into gear, but it also means there is a palpable shift in energy the minute temperatures become bearable late afternoon, as all the party spirit that hasn't melted out of us is bursting for release.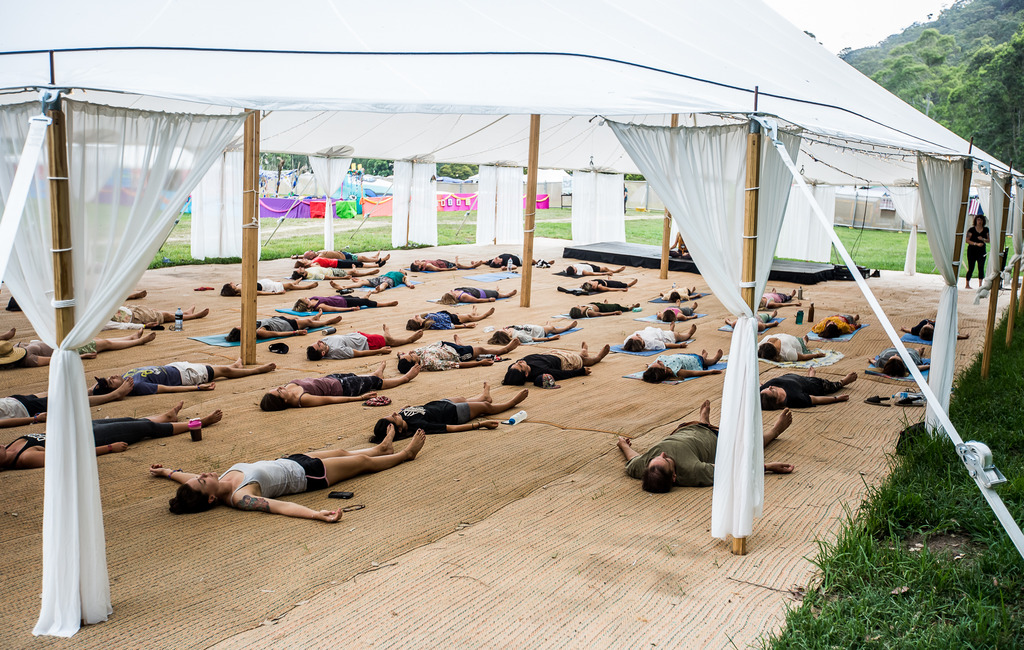 Lost Disco being the first of the two main stages to enjoy shade, naturally it's the first to kick off in the afternoon. I finally discover myself able to move during a set from Sports, who's casually dropping some afternoon filth like it's no big thang. "Is this too sexy for you guys?" she quips to a strong crowd rapidly coming alive. The unprotected Arcadia stage takes a little longer to wake up but eventually Methyl Ethel make it happen. "The sun has set - thank fuck!" they yell from stage between slow guitar grooves. Back at Lost Disco shrouded in a dusky sky the dramatic pyramid stage is coming into its own visually, whilst Young Franco sets his crowd on the bounce with hip hop inspired house.

We gather for Lost Feast fine dining that evening, the novel experience of being waited on at a festival. Sat barefoot and grubby in bold juxtaposition with the white table cloths, it's a fantastic way to kick the night into the next gear with tasty food, live rockabilly jangles in the background and the odd upstart dancing on a table. If nothing else it was the best way to get all your friends in one place at one time for a toast.
Montaigne proves an Arcadia stage highlight after dark, her unique vocal acrobatics slicing through the warm air whilst over at Lost Disco Motez is showing off his range, leading squelching bass into old school piano house with ease. I catch Gangs of Youths sending emotional waves of beer soaked heartbreak into the night before bringing it home with a stomping set from Skream, where my clearest memory is a guy singing into his thong like a microphone to New Order 'Blue Monday'. Bed time.
Day Two and the party is well and truly started in the campsites, I spend most of my time esky hopping with friends and at one point watch a man whipcrack a cigarette from the quivering bum cheeks of another man dressed in a nappy - true story. Once the heat and the whipcracks subside, I start my evening with a deliciously disco set from Mira Boru up on the hill at Paradise Club, followed by the Belligerents at Arcadia (who remembers the 'Praise You' cover?), then I drink a litre of dust in the mosh for Bad Dreems. I bump into a friend at this point who asks me what I'm going to do about my scadgy new dirt beard, which is absolutely nothing of course, because festivals.
Everyone had pre-warned me to go check out the bajillion piece dance/funk/acid trip band they call No Zu, and they were 100% right. All seven hundred of them on stage playing everything from sax to synth create a fantastic atmosphere and roll their way through a set that could have gone for twice as long. Then I skip off to catch the unique Mark Pritchard up at Paradise (yeah yeah, I miss Sticky Fingers, bla bla unaustralian) and top the night off cutting serious rug to a belter of a techno set from Eats Everything who smashes out some heavenly old techno classics and is easily one of the sets of the weekend.
Day Three is a mad scramble to get ice and Spurritos (one legendary food stall is pumping out burrito sized summer rolls, heck yeah!) before both run out. Once victuals are out of the way those in the know head to the impromptu river party at a far campsite, where some legend with a generator is DJing atop a surfboard to a brown creek turned rainbow with partying unicorns, mermaids, fairies and other such festival-friendly girlcrap.

Speaking of which, festival totem game is strong at Lost - very strong. Hi Vis Leopard is my personal favourite, but Rave Penguin, Chuckie Doll, Goon Flag, Sacrificial Baby, Pikachu Clump and the Flag of Norway can all be seen wherever the party is on form.
The atmosphere is incredible on this last day. The fancy dress has come out to play and everyone is tired to the point of delirium so social barriers are non existent and banter is top drawer. Musically I start with rocking trumpet and organ solos from Majun Bu, then one of the most epic moments of the festival, Luke Million's set up at Paradise Club, which sees the hill suddenly crawling with punters, forming the biggest crowd that stage has seen yet. Vibes are beyond electric as the golden evening light beams down on Million's live discotastic synth orgy. That finishes and I race down the hill to sample Sex On Toast as the lead singer's 80s power ballad voice soars out over rock and roll, salsa and everything in between, whilst over at Disco Leon Vynehall has dusty hi hats swinging supreme over a thumping kick.
Fat Freddy's Drop hits the spot perfectly back at Arcadia, the live funk and well-loved tunes solidifying the sense of community that is building and building amongst the laughing, dancing crowd. Then after a quick dip back to Lost Feast for a drink and a dance on the table, I race back to Flight Facilities to catch the New Year's countdown which pretty much brings us up to where we began. The crowd is literally escalating both aurally and vertically, and FF drop a killer Fleetwood Mac 'Dreams' cover before I dash off to dance to the Glaswegian overlords of eclecticism, Optimo, who are in fine form and earning hundreds of new Australian fans with every mix. It hurts like a peeling scab, but I tear myself away before the end of Optimo, because for the now tragically imminent finale of Lost Paradise, all roads must lead to Uncle Ru.
Uncle Ru, you gem. Reading the moment perfectly from his tiny shack on a crowded hill, he weaves the most far-flung fringes of house music into a cohesive whole, peaking with a particularly punchy groove which rolls a guitar riff, rumbling drum solo and a killer alto sax pedal into one track that stands as yet another of the perfect moments of all four days.
Feeling the end is nigh, the vibe on the hill is absolute. Bodies cascading over the dusty incline in compromising states but with uncompromising dedication to the rave, it's a goddam tragedy when the final tune is played to mark the end of Lost Paradise. Naturally everyone peels off to after party as they see fit, but - for reviewing purposes at least - the festival is a wrap.
Though my weekend was all about music, dancing and dodging the sun, it's worth mentioning that every time I swung by Shambala Fields they were in full session. Yoga classes were overflowing and massages rolling to my right, and to my left would come the squeals of children gainfully employed in activities, no small feat in 38 degree weather. Lost Paradise's ability to provide such diversity of experience within manageably small distances is a huge part of its allure.
For me, everything just worked out. I was able to ping-pong between friendship groups and music genres with ease, I missed no sets I had planned on, I ate well, I danced for days, I snaked a solid new year's pash and didn't actually lose my phone (if you know me, this is a thing).
Top show, Lost Paradise. Only three years in, this is the beginning of a very long adventure.
Images by Boaz, Nathan Bonnici and Scott Bruce