← Back to portfolio
Klaxons @ The Enmore, Sydney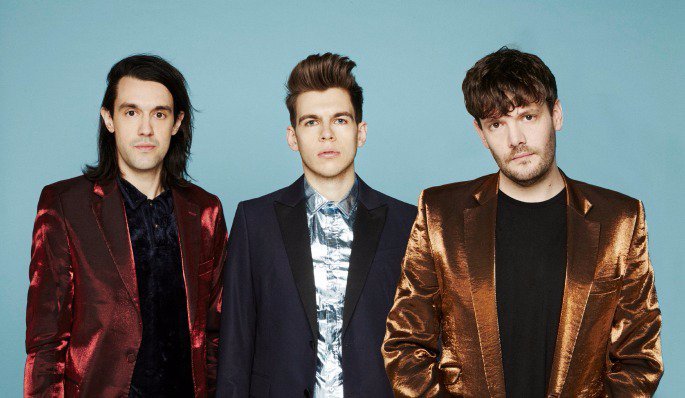 Trundling into the Enmore Theatre a short time after eight, I found support band Parades looking right at home, dotted across the stage with their eclectic instruments and creating a rich and whimsical sound which filled the Enmore's high ceilings. Tight instrumentation and creative vocal harmonies saved them from being written off as a fairly standard indie support band and as their set came to a close with a ballistic drumming crescendo, I made a mental note to catch them in their own right. Some pringles, sound checks, tunes from Canyons and a massive toilet queue later and it was time for Klaxons to show what they'd been up to these last few years…
I think Klaxons were somewhat victims of their own hype. The press surrounding their new album and two-date Australian tour has been full on and if I read the phrase "Mercury Award winning" one more time, I think I'm going to implode. So, much like when I finally sat down to watch Napoleon Dynamite – a billion years after everyone else – perhaps I went to the gig with over-inflated expectations.
But let's start with the positives. The new album translates brilliantly to a concert arena; the deeper bass and rhythmic emphasis that comes with a live show really gave the swirling sounds of Surfing the Void a needed kick.
Klaxons made a crashing start, setting the front mosh throbbing with Flashover from the new album, followed by As Above, So Below from the old. Gravity's Rainbow was a mid-gig crowd pleaser, followed by a powerful rendition of one of my personal favourites from the new album, Venusia. Things got all warm and fuzzy when they dedicated their classic_ Golden Skans_ to us lovely Sydney-siders, and crowd support remained high as we were treated to some well choreographed vocal interplay in Valley of The Calm Trees.
Alternating between their old and new albums worked well and whilst songs off their first did seem to elicit a bigger response from the crowd, that's only to be expected and I think fans will tuck into the new songs readily as they ripen with age.
After the usual foot stomping and teeth gnashing from the crowd, Klaxons dutifully presented themselves for a two-song encore, starting with Surfing the Void followed by Atlantis to Interzone. Crowd placated, house lights on; everybody shuffles out tired and happy. Do you get the feeling there's a 'but' coming? Because there is.
Klaxons won my respect musically, but in live performance lacked that personal charisma - that X factor that can burn one particular live show into your memory bank forever. The internet is an overflowing resource of information on your favourite artists, but I think if you really want to get to know the character of a band and its members, you have to see them live. And my real gripe with the Klaxons show at the Enmore lies here – they didn't let us get to know them.
The stage banter was hardly existent, and when it did come it was clichéd and repetitive (we were treated to a prosaic "thank you so much Sydney" three times over). Whilst performance alone can sometimes be very revealing in itself, the gig lacked those moments of rawness where the musicians take risks and expose themselves technically or emotionally. I found this surprising for a band that champions outlandish and extra-ordinary ideas as their guiding philosophy (see album cover space cat).
Klaxons are a great band, in good form, but they played it safe.