← Back to portfolio
The Festival Effect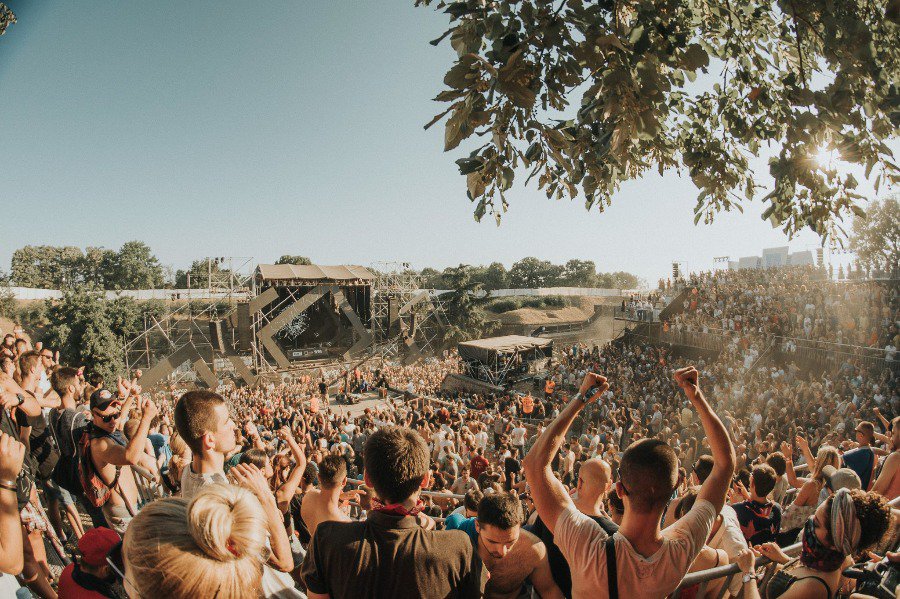 Originally published on be-at.tv.
Let's start with a fresh one. Those lucky enough to have attended BPM this January spent last week quietly licking their disco wounds in comfy corners all over the world. By now all but the most degenerate of you will have recovered, sliding back to normality with some fresh memories of beaches, beats and debauchery and not too much more. But does the home of BPM, Playa del Carmen, and the festival's sister city, Tulum, return to normal as fast? The short answer: 'normal' is changing. Every year the annual festival's influence reaches far beyond its ten-day schedule, altering the landscape and its inhabits in subtle but profound and lasting ways. It's called the Festival Effect, and BPM is merely one of many music events across the world providing the catalyst for greater change. From Mexico to Africa, the Dalmatian Coast and Detroit, this article looks at the ripple-effect changes - both intentional and unintentional - of music festivals across the globe. 

Every January the sights and sounds of The BPM Festival are scattered across the beach bars and clubs of Playa del Carmen - known simply as Playa - in high concentration, transforming the city into a louder, brighter and busier version of itself. In the nine years since BPM began, the Playa has changed dramatically, with both residential and tourist numbers increasing sharply, development exploding and the number and quality of business also increasing to keep pace with its growing popularity. The Playa is now easily the most well serviced town on the Riviera Maya and one of the fastest growing cites in Latin America.


aLIVE Coverage for TheBPMFestival.com
The demand of the huge influx of tourists during BPM has directly affected the growth of this area. Alessandra Axelsson, the festival's director of operations and finance, commented that, "high season has many periods with their own little nickname (i.e. Christmas, New Year's, Semana Santa etc) and now BPM has become a "season" so to speak, as it generates so much tourism." The festival has not just boosted tourism, but dictated the type of tourists that are coming to the region. Axelsson goes on to explain that, "BPM has brought awareness of the region in certain markets, for example you see a much higher volume of European tourism during BPM, which has a domino effect on the rest of the year, as those people go home and tell their family and friends…" BPM's role in Playa's growth, though significant, is not exclusive. It is the nearby beach town of Tulum, still only in the preliminary stages of change, which provides a clearer case study of the long-term effects of the annual knees up.

In a few short years Tulum has gone from another sleepy, little-known town on the Riviera Maya, to one of the coolest spots in the region, a favoured getaway of creatives and celebrities who like beach cocktails, jungle expeditions and staying on the cultural pulse. Many BPM DJs choose to stay in Tulum, and the result is a growing community of creatives, closely followed by the introduction of events and businesses to support this fledgling community. This year for example Tulum hosted Apparat and Psychemagik at a New Year's party, Oxia and Cera Albafor Jungle Experience, Tiefschwarz for a Watergate showcase, Damian Lazarus and Fur Coat for the famous Day Zero parties and Solomun played at a local café. Tulum is heading down a similar trajectory as Barcelona, where a successful Sónar Festival drew representatives from electronic music worldwide, who, eager to contribute, then brought with them the OFF PartyBarcelona series. This concentration of extra events created a platform for industry networking, garnered the attention of international party promoters and ultimately fostered an environment and community so appealing that Barcelona has become a draw for electronic musicians year round, the international creative community now a permanent fixture rather than merely an annual invasion. 

Now what is Tulum's growing creative community without some twenty-first century balance? In roll the wellness programmes: yoga, bikram yoga, yogalates, quinoalates, kale porridge, kale yoga, bikram salad etc etc… Tulum is now awash with them. Greater infrastructure follows - in time. Due to an undeveloped power system, at the moment there are no street lights along the Tulum beach strip, the main street lit only by string lights that stream festively from restaurants and hotels - none of which are built higher than the palm trees surrounding them. Very much on the map, but not quite on the mainstream radar, Tulum is feeling the positive effects of its local festival, in the midst of a transformation as a town and community.


Garden Festival - Croatia
Halfway around the world, the coastline of Croatia is in a similarly exciting and precarious position, with its festival scene exploding in recent years. "The Garden Festival was the first and only festival in Croatia when it came into inception in 2005." explains Leena Sharma, who helps run the pioneering Tisno festival's emporium of after-hours funk, Barbarella's. "Last year there were something like 58 festivals in Croatia, so yes, there has been a change!" Tisno's mayor, Ivan Klarin, commented in the Guardian recently on how the town has altered since Garden Fest set up camp. "Ten years ago it was rare to see that many young people enjoying Tisno and staying more than one or two days. Many businesses have opened since the festivals established themselves. Locals are now more open to new ideas." 

Both Garden Festival and BPM teams also value preservation of the idyllic landscape surrounding their events, working round the clock to ensure that whatever impact their festival has, it doesn't fall on the environment."[The Garden team] have been nothing but respectful to the surrounding areas and environment, working closely with the local council and representing a 'Leave No Trace' ethos in everything they do… our lovely volunteers are out at the crack of dawn, scouring the site for debris and raking the private little beach."Environmental efforts often come hand-in-hand with positive social action in these cases - the BPM Green Team for example creates more than seventy jobs for locals of the greater area of the Playa Del Carmen community… A portion of the recyclables which are collected through the efforts of the BPM Green team are then donated to local communities to be reused. In both cases, there is an understanding of the fragility of environment and lifestyle that existed before the festival, and active steps to stave off unwanted change. But in any chain of events, possible outcomes are difficult to control, and both Tulum and the larger Dalmatian coast region could increasingly be threatened by the large-scale property and commercial developments that so often snap at the heels of cultural success.


Movement - Detroit
The power for change inherent in a successful music festival is no secret - many events came about as a direct response to the need for it. In 2000, Detroit native and techno legend Carl Craig spearheaded the introduction of a new festival to the American Midwest, Detroit Electronic Movement Festival. Apart from being a celebration of music and a bloody good time, Movement was, and remains, an invaluable publicity exercise for Detroit, nurturing the city's cultural core amidst council bankruptcy and urban decay. Before anyone else could view Detroit as a strong cultural city, its own residents had to believe in it. Discussing the festival's inception, Craig told The Guardian, "It was intended to make a statement to the community, because techno was underestimated and under appreciated here."

It worked a treat. Supported by the local community and dance music industry, and boosted by the commercial success of techno in recent years, Movement has been at the forefront of the rejuvenation of Detroit's cultural scene and the shaping of its modern global identity. With nearly one hundred thousand punters flooding into the city every year, Movement - located in the heart of the city - is one of the few festivals that allows attendees to roam in and out of grounds. "One of the most important aspects is having re-entry at the festival so the attendees can come and go to restaurants, the Motown Museum, record stores," festival organiser Sam Fotias explains. "We really want people to see how awesome it is in Detroit." Though Detroit's financial woes still have the city in an economic strangle-hold, young creatives are now moving into the empty spaces in droves, and we all know how that urban story will play out (artisanal bakeries ahoy!).


Lake Of Stars - Malawi
In Malawi, Africa, Lake of Stars music festival has also been steadily nurturing a creative scene from the ground up. Since its inception in 2004, the country has seen three other major festival events spring up as locally run annual events, often partnered by LOS, the festival also running training programmes on event management and digital marketing for local artists and promoters. In 2016, as a response to the huge growth of the creative sector, the Malawi government is finally moving towards having an official Cultural Policy. As festival creator Will Jameson explains, the positive influence of Lake of Stars is intentional, direct and profound. "We work hard to increase our community outreach programme that takes place during the festival weekend. We take artists out into the village to perform, give free tickets to the local chief, organise a free concert for 2000 school children with UNICEF and this year recycled our wooden stages and bars into school desks and benches for a local school."

Back in the Adriatic, you'll find a festival whose influence went beyond any of the previous examples, playing a direct role in not merely cultural nurturing, increased tourism and gentrification, but the political movement and sentiment of an entire nation's youth. Like Detroit's Movement, Serbia's Exit Festival began by looking inward - a reaction, and hopefully solution, to local issues. In 2000 Serbia had been devastated by the NATO bombings and was in the midst of political upheaval. Exit Festival began as Exit Movement, a 100 day cultural festival in Novi Sad, which brought together youth from across the Balkans and eventually morphed into a political protest which was instrumental in the ousting of then President Slobodan Milosovic. Exit was a representation of change itself, and of unity, fostering a sense of community and opportunity at a time when it was critical that educated youth not leave the country in search of greater opportunity.


Exit Festival - Serbia
With the music festival established and positive changes in place at home, Exit's focus then turned to improving global impressions of the region. The festival's positive story struck a chord, and the powerful arm of international media lifted Exit onto the global stage. "We are trying to change the negative image of Serbia and the Balkans," Exit co-organiser Bojan Boskovic said in the Glasgow Herald in 2007, "because the whole Balkans are still perceived through the wars, through the Hague Tribunals, through all the bad things that happened in the nineties." International media discourse successfully altered opinions home and abroad: in the 2008 election year, Serbian political parties aligned themselves with musical genres to target voters, and in 2010 the South African Sunday Times reported that Exit's sociopolitical approach had been adopted in Zimbabwe to promote social justice and fight oppression. Novi Sad began to be described as Serbia's 'second city' after Belgrade, and these days the city is known better for its cultural allure than its political action. The festival forced the new era; the media sustained it. 

In Malawi too, the good work of festival organisers was sustained and magnified by international media support."Over the years we have reached over 800 million people thanks to the positive media coverage generated by the event," Will Jameson acknowledges. "Everyone from the BBC, Guardian, NME, Times, MTV and CNN have been to the festival, making us the biggest single generator of positive media coverage in the country. This has led to interest in both Malawi's travel and creative sectors."

Traditional media is clearly still a powerful force, but as the internet speeds up and journalist irrelevance threatens (we're still endearing though, right? Like a tape deck?) it's undoubtedly social media - the 21st century word of mouth - which as taken the reigns as chief publicist of events like BPM and The Garden Festival, and is shaping international impressions of the regions, one hashtag at a time. With pineapples, good looking crowds, sandy sunsets and distressed wood aplenty, a trip to BPM is an instagrammer's x-pro-filtered dream, with journalists playing reactionary catch ups with 'The Hipsters Have Invaded Tulum', 'Wellness Benefits of the PDC area' and 'The Festival Effect' articles…

Music festivals are clearly powerful catalysts for positive growth and change in a region, with organisers, artists, journalists and attendees all profoundly influential in the process. But chain reactions are difficult to control, and we must use our power wisely.